TV 25-4
Vacuum Chamber
The vacuum packaging TV 25-4 is built entirely in stainless steel AISI 304/SB.

The vacuum chamber has a rounded inside corners for ease of cleaning.

The operating cycle is automatically controlled by the electronic board, the sealing bar is positioned on pneumatic pistons.

The machine can handle up to 10 independent programs with digital control panel.

It does not require latch cover as it features an innovative system.
TV 25-4
Vacuum Chamber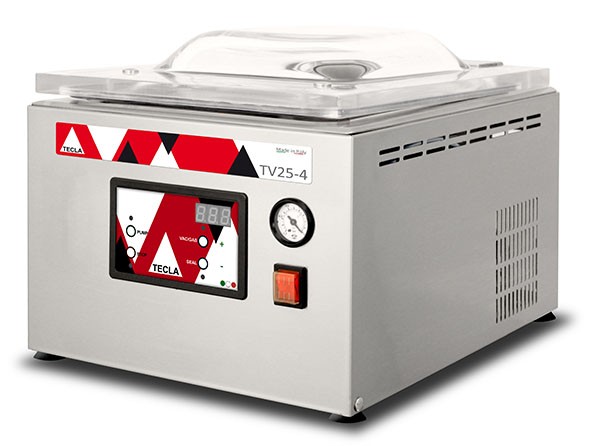 Technical data
Digital controls
Body Work
INOX AISI 304/SB
Vacuum pump
4 mc/h
Sealing bar
1x250 mm
External dimensions
357x475x335h mm
Sized vacuum chamber
270x352x150h mm
Weight
23,60 Kg
Power grid voltage
230V - 50 Hz
Cover thickness
24 mm
Max power absorbition
350 W
10 independent programs
For information and quotations