Vacum 33 - 50 ATM
Vacuum packaging machines
Tecla Vacum 33 - 50 ATM
The vacuum packaging machine Tecla Vacum 33 - 50 ATM is a very effective work tool and has a unique feature in the panorama of vacuum packaging machines with external suction as there is the possibility of packaging in ATM (modified atmosphere)
This is a packaging machine suitable for extremely versatile professional users that can be used to pack food under vacuum and inject inert gas into the envelope by connecting the machine to a cylinder containing gas mixtures suitable for food use. It is extremely reliable and is able to easily withstand important workloads. Thanks to the high quality of construction and the self-lubricating pump, the need for maintenance is reduced to a minimum.
The machine is entirely Made in Italy to guarantee further quality. Although it is a technically advanced professional vacuum machine, Tecla Vacum 33 - 50 ATM maintains the ease of use characteristics that distinguish Tecla products.
Vacum 33 - 50 ATM is equipped with a double welding bar with electromechanical movement in which the upper sealing bar is pushed through two electromagnets downwards when welding the characteristic bag which, in association with a length of the sealing bar of 500 mm and a powerful pump, allows virtually any type of food to be vacuum packed in an extremely simple and fast way. The body is in brushed stainless steel, so the machine is durable and easy to clean.
Vacum 33 - 50 ATM
Vacuum packaging machines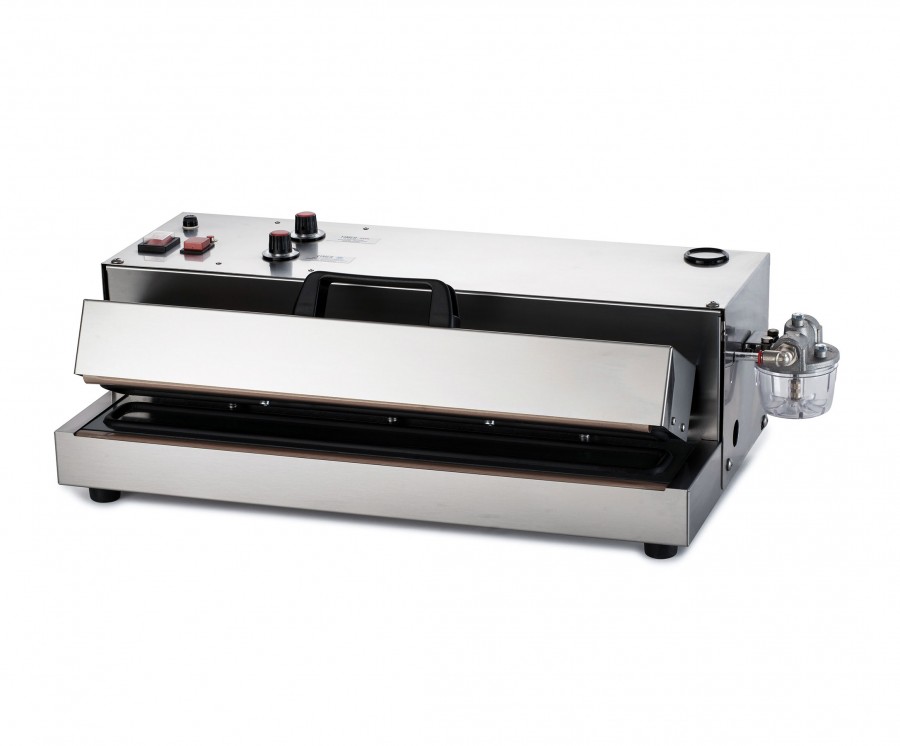 Technical data
Model
Vacum 33 - 50 ATM
Power supply
230 Volt - 50 Hz
Watt
550 W
Solding bar
500 mm, double bar
Vacuum pump
Self-lubricated
Cycle Control
Electronic board
Body
Stainless Steel
Weight
24 Kg
Sizes
700 x 320 x 230 mm
Rules
EC
For information and quotations