Vacum 33 Maxi 95
Vacuum packaging machines
The Vacum 33 Maxi 95 vacuum machine is the flagship of Tecla range of external vacuum packaging machines. It is a packaging machine suitable for professional use, it is extremely reliable and is able to easily withstand important workloads. Thanks to the high quality of construction and the self-lubricating pump, the need for maintenance is reduced to a minimum.
The machine is entirely Made in Italy as a further guarantee of lasting operation. Although it is a technically advanced professional vacuum machine, Tecla Vacum 33 Maxi 95 maintains the user-friendly features that distinguish Tecla products.
Vacum 33 Maxi 95 by Tecla is equipped with two sealing bars, the upper one with electromechanical movement that is pushed downwards when welding to the fixed lower one, characteristic that, in association with a length of the sealing bar of 950 mm and a powerful dual-body pump with a flow rate of 100 l / m, allows virtually any type of food to be vacuum packed extremely simply and quickly. The body is in brushed stainless steel, so the machine is durable and easy to clean.
Vacum 33 Maxi 95 is compatible with every type of vacuum bag: it works with smooth and embossed bags.
Vacum 33 Maxi 95
Vacuum packaging machines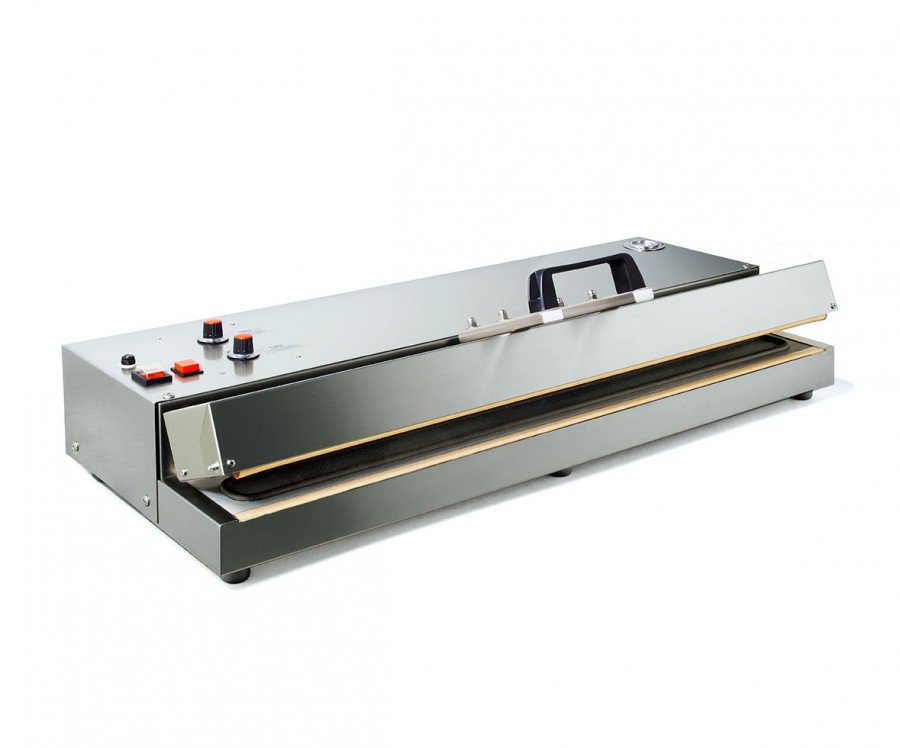 Technical data
Model
Vacum 33 Maxi 95
Power supply
230 Volt - 50 Hz
Watt
600 W
Solding bar
950 mm, double bar
Vacuum pump
double body pump flow 100 l / m
Cycle Control
Electronic card
Body
Brushed stainless steel
Weight
38 Kg
Sizes
995 x 360 x 270 mm
Normative
CE

For information and quotations