Vacuum 13
External extraction vacuum packaging machines
The Tecla Vacuum 13 vacuum packaging machine is a robust and reliable machine capable of satisfying the most demanding professional users.
The overall dimensions are limited: the optimization of work spaces was the subject of particular attention in the design of the Vacuum 13 packaging machine, which can also be used in those environments which, by their nature, do not have much space.
The bodywork, made entirely of steel, gives the packaging machine a pleasant and professional appearance while at the same time making it easier to clean and making it durable over time.
Using this vacuum sealer is very easy! The controls are simple and intuitive, the buttons are large and positioned in such a way as to be easy to reach, as well as particularly resistant: even intense use will not compromise its functioning.
Vacuum 13 by Tecla is able to work with any type of vacuum bag: the vacuum is created indifferently in smooth or embossed bags.
Vacuum 13
External extraction vacuum packaging machines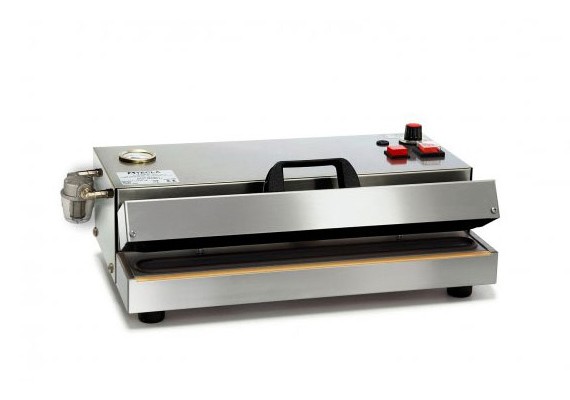 Technical data
Model
Vacuum 13
Voltage
230 Volt - 50 Hz
Power
500 W
Sealing bar
430 mm
Vacuum pump
New version - Self-lubricated - 40 L/min
Cycle Control
Electronic card
Material
Brushed stainless steel
Weight
10 Kg
Sizes
480 x 240 x 140 mm
Regulation
CE
For information and quotations