Vacum 33 - 50
Vacuum packaging machines
Vacum 33 is the top of range of Tecla's vacuum packaging machines range. It's a machine built for professional users, extremely reliable, that resists to intensive use.

This machine doesn't need much of maintenance thanks to the self-lubricating vacuum pump and high quality of materials used.

Work with this machine is simply like using a domestic model: user-friendly controls and buttons placed in the way to be comfortable to use.

Vacum 33 is equipped with two electromechanical-moved solding bars that are moved automatically by the microprocessor in the time it's necessary. This feature allows, in sinergy with the powerful 1,2 m³/s vacuum pump and with the 550 mm-length solding bars, to packing easily and quickly almost any kind of foods.

The body is made fully of stainless steel, so the machine is very resistant and easy to clean. Like all Tecla 's range of products, this item is Made in Italy.

Vacum 33 can work with smoth and embossed vacuum bags.
Vacum 33 - 50
Vacuum packaging machines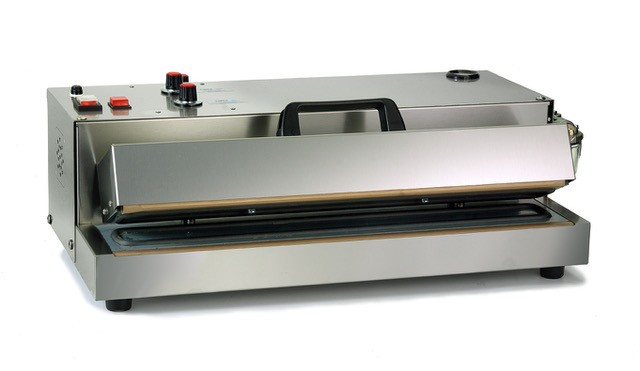 Technical data
Modello
Vacum 33
Power supply
230 Volt - 50 Hz
Watt
550 W
Solding bar
Double, 500 mm
Vacuum pump
Self-lubricating, double body
Cycle Control
Electronic board
Body
Stainless Steel
Weight
24 Kg
Sizes
700 x 320 x 230 mm
Rules
CE
For information and quotations